◆ Prices continue to rise
Going into February, anxiety is taking root as prices rise in other parts of the country as well, such as Sinuiju in North Pyongan Province and Chongjin City and Hoeryong City, in North Hamkyung Province. In addition, the price of domestically-produced rice has risen by 10-20% in various places- soaring in Hoeryong City from 4,300 won to 5,500 won per kilogram.
Originally, the price of rice fluctuated according to the changing value of the Chinese yuan. This time, however, the price of rice has risen despite the Chinese yuan exchange rate remaining level at a value of 1,250 won. Clearly, changes in the supply and demand of the rice market have had a major impact.
On February 2, another reporting partner living in Ryanggang Province explained, "We don't know when trade will resume. All the traders are reluctant to sell their goods because they don't expect to be resupplied for a while. Some people even say, 'The goods they have will be worth their weight in gold.' In particular, the price of medicine is skyrocketing. The price of glucose rose from 1.5 yuan to 3 yuan per bottle. Besides small miscellaneous goods, there are no Chinese products being sold at the markets- the trucks are empty. Even domestically-produced rice is in short supply. Those who can afford to do so are busy hoarding it."
The Kim Jong-un regime is strongly urging prevention of the new form of pneumonia. Though, it is not a fear of the coronavirus that is gripping North Korea. Ironically, it is a fear of lost trade due to the regime's preventative measures at the border. Residents worry about how they will earn money if they can't do business. At the same time, they fear that they could starve if food prices continue to rise.
"The nation and its people have become dependent on China. If the border blockade continues for a month, there will be panic," the reporting partner explained.
※ ASIAPRESS communicates with reporting partners through smuggled Chinese mobile phones.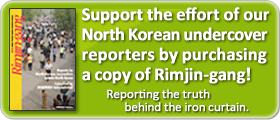 Editor's notes on North Korean reporters
ALL REPORTS >>>
ARCHIVE(pdf) >>
DPRK MAP >>