◆ North Korean exports amount to only $610,000
North Korean exports to China amounted to only $610,000 this March, according to a report released by China's customs authorities on April 23. This marks a 96.2% decrease from last year, while imports similarly fell by 90.8%, totalling only $18.03 million. The report detailed a 91.3% decrease to total exports and imports between the countries, with a value of just $18.64 million.
The Kim Jong-un regime sealed off the Chinese border in late January after the outbreak of coronavirus in Wuhan, China, cutting off trade almost entirely. With people and goods blocked at the border, there was a devastating effect on trade, as detailed in statistics recently released by the Chinese customs authorities.
It is important to note that, as it is possible that the $18.03 million worth of goods imported from China includes medical and quarantine-related aid, trade of other goods may have been stopped altogether.
Back in late 2017, North Korea was the target of strong economic sanctions by the UN Security Council. The sanctions had a devastating long-term effect as North Korea's trade volume for last year, in comparison to 2017, was almost halved. On top of that, the impact of the COVID-19 pandemic has caused massive economic disruption.
◆ Hunger among vulnerable groups
Now there are an increasing number of North Korean residents who are struggling to make ends meet. Moreover, those in vulnerable groups of the population are beginning to suffer from hunger.
A reporting partner explained, "There are more and more people who are eating only 2 meals a day and there are some households with no food at all," adding, "People are saying that death will come quicker from starvation than from the coronavirus."
North Korea is now motioning for a resumption of trade, as the coronavirus situation has become relatively stable in both China and North Korea. According to a trade broker in Jilin Province, however, China is not expected to allow trade to resume until the end of May due to concerns that coronavirus could spread to the Chinese border regions from North Korea. (ISHIMARU Jiro)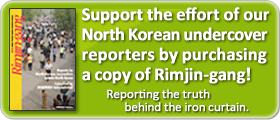 Editor's notes on North Korean reporters
ALL REPORTS >>>
ARCHIVE(pdf) >>
DPRK MAP >>