◆ Malnourished soldiers on the rise
Border patrol officers serving along the Chinese border are also said to be in need.
According to a reporting partner living in Ryanggang Province, "The border guards are not allowed to go on patrol, so the income they would normally make from turning a blind eye to smuggling has disappeared. Residents living near the bases are waiting for the soldiers to be able to go off base again so that they can be paid [to provide them food] again. Everyone is having a difficult time."
So how is the military dealing with the problem of malnourishment in its ranks?
According to the reporting partner, "Before [the coronavirus crisis], severely malnourished soldiers were sent back home or given residence in an officer's home to be nursed back to health. Now though, because these soldiers are especially vulnerable to infectious diseases, they are taken to live separately elsewhere, in guard posts for example. Soldiers who appear very weak and under-weight are excluded from ordinary training and given lighter duties such as cleaning."
ASIAPRESS reporting partners attempted to find out which bases had been hit by coronavirus outbreaks but did not turn up any information.
◆ Despite difficulties, soldiers mobilized for military construction projects
In a speech at the ground-breaking ceremony for the construction of a hospital in Pyongyang on March 17, Kim Jong-un said he would leave the work in the hands of "the soldiers of the Guards Brigade and the 8th Construction Bureau, the construction units I trust the most." Both are units of the People's Army which specialize in construction.
While isolating military units from the general public to avoid coronavirus infections, the Kim Jong-un regime is pushing ahead with mobilization efforts for its top priority construction projects.
In an editorial published on May 14 by the Rodong Sinmun, the newspaper of the Workers' Party of Korea, the general public was urged to "demonstrate the people's unity" to support the military's construction efforts. With the economy hit hard by the effects of the coronavirus, this can be read as a request for residents to provide money to support the construction efforts of mobilized soldiers. Though coronavirus prevention measures have stopped families from supplementing the diets of soldiers, it has not stopped the regime from exploiting its people for labor and resources.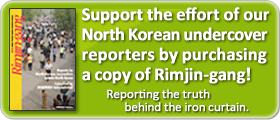 Editor's notes on North Korean reporters
ALL REPORTS >>>
ARCHIVE(pdf) >>
DPRK MAP >>