◆ Markets temporarily closed for disinfection procedures
North Korean authorities have begun massive disinfection efforts across various parts of the country as a countermeasure against the coronavirus.
A reporting partner speaking to ASIAPRESS on May 19 explained, "They are using disinfectant sprays at places where people commonly gather, such as markets and conference rooms. The markets have been temporarily closed. This is not only due to the coronavirus but also because the African swine flu (which was so widespread last year) is flaring up again."
North Korean authorities have urged the public to be cautious and enacted prevention measures since February. Although state media portrayed the regime's sterilizing efforts to be comprehensive, the reality was that stocks of sterilizer were insufficient and salt water was being used as a cheap substitute.
It wasn't until late May that the regime began large-scale disinfection efforts. It is most likely that the wide-reaching countermeasures recently became possible due to the large donations of disinfectant supplies from international organizations and the Chinese state.
US-based Radio Free Asia (RFA) reported that markets in Ryanggang Province were closed on May 18. Speaking to ASIAPRESS, a local reporting partner explained, "It is a temporary closure for sterilization, not a total closure." Authorities are said to be encouraging citizens to use state-run markets and grocery stores during this time. (Kang Ji-won)
※ ASIAPRESS contacts its reporting partners in North Korea through smuggled Chinese mobile phones.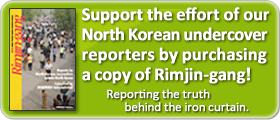 Editor's notes on North Korean reporters
ALL REPORTS >>>
ARCHIVE(pdf) >>
DPRK MAP >>