◆ Illegal sale of confiscated fields
Another reporting partner, 'B', told us a similar story. He said that the orders are strict this year. 
"They wouldn't allow us to go near our fields in the mountains. If we planted something, they'd pull it out of the ground. I recently planted potatoes, and they pulled them out. It was growing well……."
The "Forest Protection Agency" enforces agricultural laws. The agency stated that the crackdown on illicit agricultural practices came on the orders of the Great Leader, Kim Jong-un. Yet, there seems to be corruption behind the scenes. 'A' continued:
"After they confiscated the fields, they didn't plant trees. Instead, they put them on the black market, and sold the fields to individuals, agencies, or businesses. For 9917.4m2, it's about 400,000 Won (about USD50). People who've lost their fields curse them behind their backs.
It is reasonable to replant trees on the bare mountains. Yet, the initial problem of over harvesting was due to starvation and indigence that came about as a result of the economic collapse. Without addressing the real problems people will continue to suffer.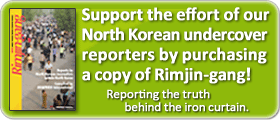 * Editor's notes on North Korean reporters
ALL REPORTS >>>
ARCHIVE(pdf) >>
DPRK MAP >>