◆ 10,000 North Korean defectors have entered South Korea over the past 8 years
Identity cards in North Korea were last renewed in the summer of 2011, just before the death of Kim Jong-il. Since then, there has been a large number of residents whose 'whereabouts have become unknown', such as North Korean defectors, missing persons, and those who have left their residence without authorization. Although it is unknown exactly how many North Koreans have gone missing since 2011, South Korean government statistics show that over 10,000 defectors have fled the North. To combat the rising number of defectors and disappearances, the Kim Jong-un regime has been focusing on registering the information of residents as a way of maintaining control over the population.
Another reporting partner in North Pyongan Province said that, "In 2018, police stations continued to take the census through Inminbans (neighborhood political units). Though the real purpose behind the census was to monitor the movements of individual residents, including defectors. Police officers and Inminban leaders visited homes and checked for inconsistencies between the resident register and the actual number of residents in each home."
In 2017, the North Korean government planned to conduct a national census, requesting financial support from the UNFPA (United Nations Population Fund). To gather this financial support, the UNFPA requested a contribution of six million USD from South Korea, which the South Korean government approved. When the Kim Jong-un regime conducted nuclear tests and long-range ballistic missile launches in 2017, however, subsequent sanctions imposed by the UN Security Council led to the suspension of financial support.
For the Kim Jong-un regime, the lost funds marked a failure in its plan to maintain control over residents. Moreover, with the government's funds dwindling due to economic sanctions in 2018, further delays may be inevitable. It is also possible that the new identity cards may be issued electronically, but this rumor has not yet been confirmed.
A police officer who met with our reporting partner said that, "An order from within the Party was issued at the end of last year saying that the Supreme People's Assembly election will be held in March, once the renewal of nationality cards is completed." Elections for the Supreme People's Assembly, North Korea's top legislative body, are largely held for show, with elected representatives serving 5-year terms. The last such election took place in March, 2014.
※ ASIAPRESS contacts its reporting partners through Chinese mobile phones smuggled into North Korea.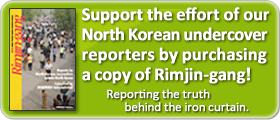 Editor's notes on North Korean reporters
ALL REPORTS >>>
ARCHIVE(pdf) >>
DPRK MAP >>