In addition to the denouncements, the authorities made a slew of arrests in the wake of the scandal. According to the reporting partner, "the police have arrested 80 people and are interrogating the students nonstop".
Pornography, however, is by no means a novel product in North Korea. Since the early 2000s, pornography, as well as ordinary South Korean and Chinese dramas, has been smuggled in across the Chinese border. These popular videos would then be digitally copied and spread across the country.
This latest incident has revealed the difficulty the regime faces in controlling the distribution and consumption of imported videos such as dramas and pornography. Despite the heightened punishments for watching smuggled media, North Koreans still have a thirst for outside information and wish to know about life in South Korea.
As the authorities make every effort to root out the source of the illegal pornography and punish those who watch or distribute it, the reporting partner said, "the scope of the case will surely expand."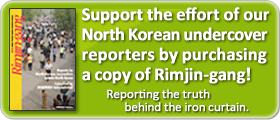 Editor's notes on North Korean reporters
ALL REPORTS >>>
ARCHIVE(pdf) >>
DPRK MAP >>