◆ State media also refrains from denouncing the U.S.
The North Korean authorities have not referred to the Hanoi summit as a 'failure'. Rather than directly criticize President Trump for the breakdown, state media blamed the 'hard-liners', Bolton and Pompeo, for an agreement not being reached.
Though it must be appealing for the regime to respond to the difficulties caused by the sanctions with renewed calls for "self-reliance", the state has thus far refrained from using harsh language in order to avoid a return to its confrontational relationship with the United States.
The Kim Jong-un regime seems to be wary of losing its image of authority, aware that, if anti-american sentiment was too strong amongst the general public, then any concessions in future talks with the U.S. could be viewed as 'submissive' or 'bowing down to Trump'.
On April 11, while North Korea held its Supreme People's Assembly, President Moon met with President Trump in Washington DC. If Kim Jong-un would like to meet President Trump once more, he will likely display a favorable attitude towards denuclearization talks in the near future. (Kang Ji-won)
※The North Korean authorities have repeatedly announced through propaganda that, "Kim Jong-un succeeded in the Hanoi talks with excellent diplomacy."
※ASIAPRESS contacts its partners through mobile phones smuggled in from China.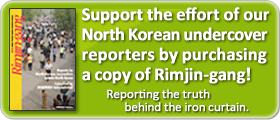 Editor's notes on North Korean reporters
ALL REPORTS >>>
ARCHIVE(pdf) >>
DPRK MAP >>