According to trade figures released by China's customs authorities in late April, North Korea's combined exports to China from January to March totalled $68.89 million- down 20% from the year before. This marks a significant reduction from last year's total which, due to the economic sanctions, had already been cut by about 88%.
The sharp decline in exports to China in 2018 was largely due to the ban on exports of coal, processed textile products, seafood, and iron- North Korea's major exports. Exports to China were predicted to remain unchanged for this year, but they have instead declined by a further 20%.
This year, Chinese authorities have tightened customs inspections at trading sites with North Korea. Smuggling has also been strongly clamped down on, with enforcement stronger than ever along the 1,400 km border.
There are no specific signs of worsening relations between North Korea and China, but it is possible that China is pressuring the Kim Jong-un regime to move toward denuclearization through its faithful implementation of the economic sanctions.
In addition, imports from China during the period of January to March increased by 9.77% from the year previous, with total imports and exports increasing by 5.43%. (ISHIMARU Jiro)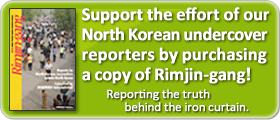 Editor's notes on North Korean reporters
ARCHIVE(pdf) >>
DPRK MAP >>