◆ Reduced precipitation leads to low hydroelectric power output
A survey by ASIAPRESS found that residents in various regions of North Korea are still living without any electricity, as 'power-saving' measures continue to be in effect.
The power-saving measures began in early November of last year. Now, 6 months later, residents are lamenting their "ongoing, primitive lives under the blackouts".
North Korea is dependent on hydroelectric power for about 70% of its supply. The power situation, therefore, deteriorates each winter when rivers freeze. Even with the spring season beginning late, however, the frozen dams melt by early April.
In mid-May, ASIAPRESS surveyed residents in suburban areas of Ryangyang province and in urban parts of North Hamkyung province about the power situation.
A resident of Hyesan City said on May 14, "There's still no electricity whatsoever. They say they're putting every effort into building the Samjiyeon Special Tourist Zone but...there doesn't seem to be much electricity going to industrial uses."
In Samjiyeon, construction of a special international tourist zone has been underway since 2017 under the orders of Kim Jong-un. Materials, personnel, and electricity are being supplied to the project as a top priority, with completion of the construction targeted for this fall.
A resident of Hoeryong City, North Hamkyung province said on May 15, "There's not a second's worth of electricity. The richer households are using solar panels or car batteries. The industrial centers are being supplied with only about 6 hours of electricity a day."
Bribes are used to charge car batteries at factories or government offices, for later use at home.
On May 15, North Korea's Central Broadcasting reported that, from January to early May, rainfall totaled 54.4 millimeters, the lowest level on record since 1982. As such, it is possible that water has dried up at the dams, leading to lower power generation. However, with 'power-saving' measures going on for longer than ever before, it is also possible that the power output is suffering from a lack of coal and oil supplies.
At present, electricity is being supplied first and foremost to administration and party offices. Industrial facilities, on the other hand, though they received about 12 hours of electricity per day at the start of the year, now find their power situation stagnating. (Kang Ji-won / ISHIMARU Jiro)
※ ASIAPRESS contacts its partners in N. Korea through smuggled Chinese mobile phones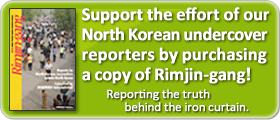 Editor's notes on North Korean reporters
ALL REPORTS >>>
ARCHIVE(pdf) >>
DPRK MAP >>