What about the holidays in September and October this year?
A reporting partner living in Musan County, North Hamkyung Province, said by phone, "The last time we received a bottle of cooking oil was on August 15. There were no special holiday distributions given to citizens to mark either of the holidays on Sept. 9 and Oct. 10. There was nothing."
Meanwhile, many party agencies, local people's committees, law enforcement agencies, and trading companies made efforts to independently procure supplies in order to distribute special holiday rations.
As if quite embarrassed, the reporting partner explained, "The local authorities make money on the side, so have been distributing special rations independently. Party agencies, meanwhile, have provided cooking oil, sugar, pork, and MSG with the support of trading companies. The Musan branch of the Kangsung Company (a trading company) gave to each of its employees 100 Chinese won (roughly 16,000 South Korean won), 20 kilograms of white rice, and 5 liters of cooking oil."
"Musan residents are furious, with many saying, 'The state agencies have given no special holiday rations to residents but state officials and trading company officials are receiving supplies- it's ridiculous!'"
What about soldiers of the military? According to the reporting partner, troops stationed in Musan County were supplied with 100 grams of pork to mark the holiday on October 10. In addition, the Musan County People's Committee planned to supply children with sweets from a local factory but could not, in the end, secure the budget for the fee demanded by the factory.
The reporting partner concluded, "There is no money in the country. September 9 and October 10 are important national holidays, so special rations were always supplied one way or another to residents. This year, though, residents didn't even get a single toothbrush or tube of toothpaste."
There were similar reports from across the country in 2018, when residents also did not receive any special rations to mark the October 10 holiday. (Kang Ji-won)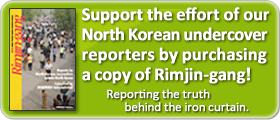 Editor's notes on North Korean reporters
ALL REPORTS >>>
ARCHIVE(pdf) >>
DPRK MAP >>