◆ No COVID-19 infection tests conducted in the provinces
Meanwhile, rumors of infections are being reported from North Hamkyung Province, near the Tumen River border with China.
In Rason, a city with frequent Chinese visitors due to active trade links, a person displaying symptoms was put into quarantine in February. A rumor has since spread, though, that a merchant who had been in contact with the quarantined man later spread the disease to the nearby city of Chongjin.
According to a reporting partner, "Among that merchant's acquaintances in Chongjin, there have been several people who have died after experiencing coughing and high fevers. The hospital, however, was unable to diagnose the coronavirus and therefore attributed their deaths to tuberculosis."
ASIAPRESS reporting partners in North Korea contacted hospital and quarantine office officials in Hyesan City, Hoeryong City, and Musan County in North Hamkyung Province, among other locations. However, as of March 22, there was no news on coronavirus testing.
Russia's Foreign Ministry announced on February 26 that it had donated 1,500 coronavirus test kits at the request of North Korea. Though it has not been disclosed, it is highly likely that China has also sent test kits.
The few test kits that North Korea has will almost certainly be used to monitor the health of Pyongyang's elite and powerful. Next to be checked will be those in departments with many foreign contacts and, after that, the test kits will likely be used by the military. With this most likely being the case, it is no wonder that coronavirus tests have not been conducted in the hospitals of provincial cities.
◆ Rumors and superstitions spread... "Does garlic work?"
Meanwhile, coronavirus prevention methods based on false rumors and superstitions have been spreading among residents.
According to the aforementioned reporting partner from Hyesan City, "Many people believe that eating garlic, red pepper paste, and kimchi can boost immunity to the coronavirus and have a preventative effect. Omija tea is also said to be good. Others say that you will not get infected if you brush your teeth with salt water every day."
Rumors are also spreading that a new drug to treat the virus has been developed in China.
The reporting partner continued, "There have been many fatalities in the US, Japan and South Korea but talk has spread that many countries are getting help from a new drug developed by China. This has led to a building sense of relief among residents."
It is not known when a vaccine for the coronavirus will reach final production.
The Kim Jong-un regime has been studying the spread of coronavirus in China and South Korea and learning from the countermeasures rolled out by each. It now finds itself imposing quarantines and dealing with the crisis in its own way, in spite of the unfavorable conditions. (Kang Ji-won/ISHIMARU Jiro)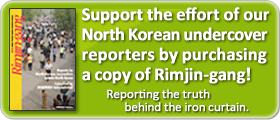 Editor's notes on North Korean reporters
ALL REPORTS >>>
ARCHIVE(pdf) >>
DPRK MAP >>