◆ The worst foreign currency shortage in the Kim Jong-un era
The Kim Jong-un regime blocked the border at the end of January and tightly restricted the entry of people and goods in order to guard against the introduction of coronavirus, leading to a sharp decline in trade with China since March.
Some analysts say that the reason for the sharp decline in trade with China since August is that the North Korean authorities have more severely restricted the import of goods to prevent coronavirus, but another theory is that imports have been in short supply due to a shortage of foreign currency.
Along with sluggish exports, tourism has also been cut off. Profits from dispatched workers abroad also appear to be stagnating due to the sluggish production, construction, and service industries in China and Russia due to coronavirus. Non-trade foreign currency imports will also continue to decline.
After economic sanctions increased at the UN Security Council in 2017, exports to China in 2018 fell 86% compared to the previous year. In 2019, while focusing on the export of non-sanctioned items, it recovered to some extent, but the total exports from January to October this year have decreased by 74% compared to the same period last year. It is a drop from figures that have been heavily depressed due to economic sanctions, and it is about a 95% drop compared to 2016.
◆ Have daily necessities been cut off?
Below are the top imports and exports items for October announced by the Chinese customs authorities. It is unclear exactly what each item is but it is distressing that daily necessities, which had been at the top of the list before August, have disappeared from the list of import items. (The unit used in the list is US dollars.)

● Top exports to China
Electricity: $1,133,293
Glue, plates, and other semi-finished products with graphite and other carbon-based ingredients: $272,175
Personal E-Commerce Goods: $358
Low-cost, cursory customs check goods: $340
Cleansing products, retail packaging: $37
Other electric household appliances: $28
Other beauty products, cosmetics, and skin care products: $11
● Imports from China
Polyester short fiber adhesive fiber, short fiber, mixed yarn: $203,776
Polyethylene: $39,000
Power: $9,523
Other polyurethane-treated fabrics: $600
In addition, there are shipments between North Korea and China that do not appear in statistics. Since June, large amounts of food and coronavirus quarantine equipment have reportedly been provided from China. The Asahi Shimbun reported that 500,000 to 600,000 tons of food and 550,000 tons of fertilizer, while the South Korean Joongang Ilbo reported that 800,000 tons of food were delivered unofficially.
※On December 3, the trade item names reported by China were modified.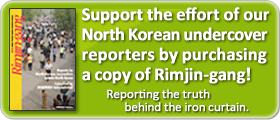 Editor's notes on North Korean reporters
ALL REPORTS >>>
ARCHIVE(pdf) >>
DPRK MAP >>