Finally, the South Korean drama "Crash Landing on You" is beginning to spread within North Korea.
In North Korea, watching or disseminating South Korean dramas and movies will result in severe punishment. The maximum penalty under the "Law on the Elimination of Reactionary Thought and Culture," enacted in December 2020, is death. In spite of this, North Koreans keep watching.
How did the "Crash Landing on You" come into the country, and how did people perceive the forbidden romance between a North and South Korean? We asked our reporting partners living in North Korea, with whom we have worked for many years.
※We contact our reporting partners in North Korea through smuggled Chinese mobile phones
◆Laughing at the scene where a South Korean woman plays a "People's Team Leader"
The writer interviewed four of his collaborators who live in the northern region during March and April. Only one of them had actually seen "Crash Landing on You," but all the rest knew about the drama as well.
First, let us hear the impressions of Ms. A, who said of the drama, "It was really interesting."
――How did you obtain it?
A: I secretly asked a friend of mine, an official, to share it. I have not seen all of them yet. There are still a few episodes left.
―― Which scene was the most memorable in "Crash Landing on You?"
A: I laughed when I saw a South Korean woman who came into North Korea playing the role of "People's Group Leader." She was eating potatoes and scorched rice balls. I also enjoyed the scene where the soldiers from here went down to South Korea to carry out their missions. So, South Korea also has something like a steam bath, which is called an ablution bath (public bath) here. The scene was very interesting as well. ※The people's group is the lowest administrative organization.
――Have many people in North Korea already seen "Crash Landing on You?"
A: I don't know about that. You cannot say that you saw it. It brings a severe punishment. Even if people have watched it, they have to pretend that they don't know about it. However, there are times when I feel like, "Oh, this person is watching a Korean drama." It's the way they dress, the way they speak, and when they talk about South Korean food. If you hear someone say, "Chicken tastes better when it's fried," you know they're watching.
◆It was secretly called "Shichaku".
The remaining three collaborators had not yet watched "Crash Landing on You," but had heard about the drama. Below are the thoughts of Mr. B (male) and Ms. C (female).
B: I haven't watched it yet, but I have often heard that there is an interesting South Korean drama called "Crash Landing on You." It's secretly referred to as "Shichaku".
――What kind of drama do people say it is?
B: They say it's a drama about a North Korean soldier living in South Korea and coming back. It seems that the officials watch it a lot. However, it is not as popular as "Autumn in My Heart" (aired in 2000), "Stairway to Heaven" (aired in 2003-2004), or "Innolife" (aired in 2004), because the crackdown is insanely strict.
C: There has been a lot of talk about "Crash Landing on You," but the punishment for watching it is so horrible that I can't watch it. Watching South Korean dramas now is a life-threatening experience.
――How strict is it?
C: It used to be that one year of indoctrination (imprisonment) was the norm after watching one film, but now it is said to be five years. If you stay in jail for five years, you will die. The people who are watching are either powerful officials or young, naive kids. These days, young people watch more music videos than South Korean dramas. The ones where young girls sing and dance (apparently K-pop music videos).
◆How did the drama get into North Korea, which is on high alert for coronavirus?
There is one mystery here. How and when did "Crash Landing on You" get into North Korea?
The first broadcast of "Crash Landing on You" in South Korea was from December 14, 2019 to February 16, 2020, with a total of 16 episodes, by cable TV station "tvN." The distribution service was later launched on the Internet. In Japan, it became very popular on Netflix.
However, in late January, just as the series was reaching its climax, the COVID-19 pandemic began in East Asia.
Normally, South Korean dramas and movies recorded on USB or SD cards are secretly brought to North Korea from China, where they are copied and sold by underground traders and spread. When coronavirus expanded in Wuhan, China, at the end of January, the Kim Jong-un regime blocked the border. It has almost completely cut off the flow of people and goods. Smuggling has also been devastated. Since tvN is not broadcast by satellite, it should not be available in North Korea- so how did "Crash Landing on You" get into North Korea?
According to Mr. A, "It was in Sinuiju (a north western border city of China) that "Crash Landing on You" first became popular, and it began to spread to Pyongyang and the southern regions by the end of 2020. But I heard that a lot of people who watched it were arrested and sentenced to indoctrination."
What is not known is how the drama got past the strict border controls imposed by the anti-coronavirus measures. Perhaps the source of the spreading was the privileged class of North Koreans who are allowed to have Internet access.  (ISHIMARU Jiro)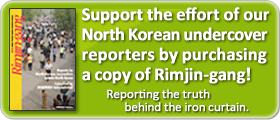 Editor's notes on North Korean reporters
ARCHIVE(pdf) >>
DPRK MAP >>