To the Readers of the English Edition of Rimjin-gang :
ISHIMARU Jiro (Chief Editor and Publisher)
Seven years have passed since I first joined forces with North Koreans living inside the country to cover the lives of ordinary people.
International media from Japan, South Korea, North America and Europe have all produced news stories and documentaries based on the audio and video captured by our team.
Working together with those living on the inside is what makes covering North Korea possible. This approach appears to be the only viable option. I came to realize that outsiders attempting to shed light on North Korea hit a wall that is simply impossible to breach. No one can report on a nation better than its own people, and while it may be possible to enter the country, it is impossible for outsiders to engage in conversations freely or wander about without a guide (whose true mission is surveillance).
What is really happening inside this secretive nation?
Joining hands with those actually living there is the only way to truly tell the story of North Korea. That is the conclusion I have reached after covering North Korea for seventeen years. It is the reason I launched the magazine Rimjin-gang.
I was shocked to come in contact with realities of North Korean society I had personally never witnessed before thanks to the increasing activity of these reporters on the inside. I was surprised to see the society transforming at such a rapid pace.
I hope that by reading Rimjin-gang, our readers will realize that North Korea, a country until now hidden under a deep veil, is in the midst of sweeping changes, and that these changes are without a doubt being brought about by the people themselves.
The following essay is a summary of this transformation based on reports by our North Korean Rimjin-gang team. By reading this essay, I believe the readers of the English edition of Rimjin-gang will gain a better understanding of the purpose of our periodical.
Ishimaru Jiro, October 2010
---------------------------------------------------
Ishimaru Jiro
Ishimaru was born in 1962 in Osaka, Japan. He is the Osaka office representative for ASIAPRESS.
He studied abroad in Seoul for two and a half years and then in '93 traversed the entire 1400 kilometer China-North Korean border. He has made reports from inside North Korea three times, and has been to the border region more than seventy times. Up to now he has interviewed more than 700 North Koreans. Ishimaru is the publisher and chief editor of Rimjin-gang.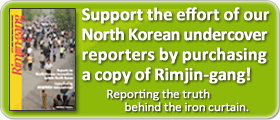 * Editor's notes on North Korean reporters
ALL REPORTS >>>
ARCHIVE(pdf) >>