The second reason is the short of applicants for the Trooper. North Korea experienced severe famine in the 90s, which resulted in decrease of young population. Young people try their best to avoid harsh life of three to five years at the Storm Trooper.
Many young people used to apply for the Trooper in the past since, if they volunteered at the Trooper, there were rewards and payments such as a guaranty to be a member of the Worker's Party with a bight prospect in the future. But other opportunities to make money became available as market economy expanded. There is not much advantage by becoming a Party member any more.
The authorities are performing several construction works to meet the deadline before the Party Conference in Pyongyang and other regions. More free workers are needed from the Storm Troopers and that is why they are using such an abnormal measure to recruit the youth.
According to 'C', eight to ten parents are rallying every day to protest forced labor of their kids at the Party office, citing "What a lawless world this is!"
*The formal title of the Youth Union is 'The Youth Union of Kim Il-sung Socialism.' It is comprised of non party members with ages from fourth grade in middle school (16 years old) to 30 years old.
* Storm trooper is a labor force formed to work for large construction projects of the nation. It is organized and managed from the Youth Union and workplaces, which would be mobilized for the construction of rail way and power plants, and so on. While it looks like a volunteer system, it is almost a compulsory as the authorities allocate number of personnel to join in the force from each organization and workplace. The duration lasts from 3 to 5 years and the organization resembles the military system. The Youth Union is a wide spread roots organization with more than twenty 'Youth Battalion of Storm Trooper' from Pyongyang and other regions.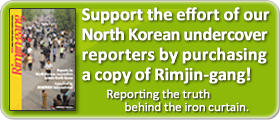 * Editor's notes on North Korean reporters
ALL REPORTS >>>
ARCHIVE(pdf) >>
DPRK MAP >>