◆ Making Trade Offers to Even Russian Tourists
The reporting partner described the 'sudden Russian boom', saying, "Since Kim Jong-un's visit, many traders have even been approaching Russian tourists in Rason City to offer them trade deals. The companies are putting up flyers written in Russian with business information and contact details. There is already quite a scramble to find Russian interpreters."
But it will not be that easy. Russia is also in favor of the UN Security Council's resolution to impose sanctions on North Korea and has promised to abide by them as well. There is also the threat that Russian companies, if found to be in violation of the sanctions, could be punished with secondary sanctions by the U.S..
Indeed, North Korean trade with Russia has also plunged due to the impact of the economic sanctions. In 2018, North Korea's imports from Russia amounted to around $32 million, down 56.9% from the year previous. Exports to Russia, meanwhile, totalled $19.8 million, down 46% from the year before.
Unless the regime makes some headway in its denuclearization talks with the U.S., however, Russian engagement with North Korea will remain limited to food aid and other minor support.
The reporting partner concluded, "Now that North Korea is in a tight spot with China, there is only Russia left. Half of the traders have high hopes. The other half do not, but are still running around, clutching at straws." (Kang Ji-won)
※ ASIAPRESS contacts its reporting partners through smuggled Chinese mobile phones.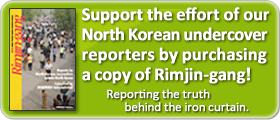 Editor's notes on North Korean reporters
ALL REPORTS >>>
ARCHIVE(pdf) >>
DPRK MAP >>