◆ North Korea eager to resume trade
Despite this, there are growing expectations among North Koreans for trade to be resumed. This hope is born out of desperation, as the North Korean economy is failing to cope with the loss of vital Chinese imports and logistically paralyzed by the increasingly strict controls placed on domestic movement.
Speaking with ASIAPRESS on April 13, a businessman living in Hyesan, Ryanggang Province, said, "As the coronavirus situation in China had stabilized, there were huge expectations for trade to resume after April 15 (Kim Il-sung's birthday). Since April 6, private citizens and trading companies were busy preparing for the resumption of trade, collecting and buying medicinal herbs to be exported to China. We are now keenly aware of how much power China has over our own survival. If trade continues to be suspended, we are done for."
The businessman did not, however, seem to be aware of the further delay in resuming trade.
◆ "State-sponsored smuggling" stopped, despite the huge impact of the prolonged border closure
What about smuggling? According to the Chinese trade broker, Chinese companies have been receiving many proposals for smuggling operations from North Korea's state agencies but the operations "have been impossible to undertake as the security on the Chinese side is too tight." The trade broker continued, "We have to meet directly with North Korean counterparts to confirm the quantity and quality of goods but there are no vendors who are willing to meet with them because they are afraid of getting infected by the coronavirus."
With China accounting for more than 90% of North Korea's trade, ordinary North Korean citizens as well as the Kim Jong-un regime are certain to be seriously affected if imports and exports remain suspended until the end of May.
Citing sources in North Korea, the U.S.-based Radio Free Asia (RFA) also reported on April 13 that trade between North Korea and China is likely to be resumed in mid-May.
In April, cargo trucks loaded with goods for North Korea were seen in Dandong, the largest trade zone along the Chinese-North Korean border. According to RFA, however, these trucks were loaded only with important supplies such as quarantine aid. (Kang Ji-won/ISHIMARU Jiro)
※ ASIAPRESS contacts its reporting partners in North Korea through smuggled Chinese mobile phones.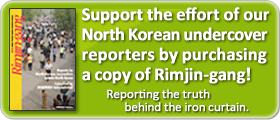 Editor's notes on North Korean reporters
ALL REPORTS >>>
ARCHIVE(pdf) >>
DPRK MAP >>