■ Residents welcome introduction of multiple channels
The device used to tune to these 4 channels is the "Blue Sky," a hand-held television signal converter.
According to reporting partners, the subscription fee for the device is 6,000 North Korean won per year, with 500 won collected from each household every month by the head of the local people's unit (inminban). This service first began around the summer of 2018. (As of June 2020, 100 North Korean won is worth roughly 0.01 USD)
The "Blue Sky" devices are sold by state-run stores and do not require a subscription or application to be purchased. North Koreans can buy the device for 130 RMB (about 22,000 South Korean won) and simply install the device themselves at home. Without the "Blue Sky" device, the only channel that North Korean televisions can access is Chosun Central TV, for which the annual subscription fee is said to be about 300 North Korean won.
In summary, 60-80% of North Korean households in provincial cities and about 30-40% of households in rural areas have installed a "Blue Sky" device. It took around 2 years for the devices to reach their current level of popularity.
The devices are particularly popular in Ryanggang Province and North Hamkyung Province as residents benefit from the economic opportunities that come from living close to the Chinese border and can more easily afford to purchase the devices. Other provincial areas, meawhile, have a slightly lower installation rate.
Hotels and public facilities in Pyongyang are equipped with cable TV sets, but in provincial cities, households must connect "Blue Sky" devices to antennas in order to enjoy multiple channels. The devices also allow for owners to record TV programs and schedule recordings of programs in advance. In addition, owners can connect external USB drives to the "Blue Sky" devices.
As discussed earlier, the Kim Jong-un regime has introduced multiple TV channels at the same time as cracking down on "impure" foreign media.
According to a reporting partner, "Most residents watch foreign media rather than domestic television. Most people have a VCD, DVD player, or "Notetel" (a laptop-sized device which can play DVDs and videos on USB sticks) for listening to music and watching movies. They often watch animal documentaries. The popular Notetels are made in China and allow users to plug in USB devices to watch videos. If you get caught watching South Korean dramasthough, you will be sent to prison. People are scared, so they don't watch them at all these days. Instead, people are watching movies and dramas from China. But the authorities are even cracking down on those."
The introduction of multiple channels was a major change for residents who were tired of watching the old-fashioned Chosun Central TV. On the other hand, it also reflects the regime's intention to strengthen its propaganda and prevent residents from watching South Korean dramas. (ISHIMARU Jiro)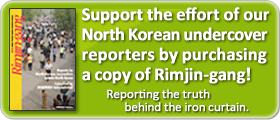 Editor's notes on North Korean reporters
ALL REPORTS >>>
ARCHIVE(pdf) >>
DPRK MAP >>