◆ Are restrictions on the use of dollars imported by diplomats a major blow to Pyongyang residents?
According to reporting partners from several regions, "Now, it has completely changed, and only domestic currency is used in the market. It is because people are afraid that their money will be confiscated and they will be arrested." On the other hand, local banks are still doing foreign currency exchanges. However, these rates are said to be 5 to 8% worse than those offered by "Money Dekos."
There is also talk among diplomats and employees of international organizations in Pyongyang that the control of foreign currency transactions began at the end of October. On the Facebook page of the Russian embassy in Pyongyang, a message was posted saying that U.S. currency could not be used in foreigners-only stores. RFA (Radio Free Asia) and NKNEWS, both media specializing in North Korean reporting, also featured similar news.
Pyongyang is the most common place to use foreign currency. As the value of foreign currency has dropped by 20 to 30%, the impact will be huge. ASIAPRESS asked a reporting partner living in the northern part of the country about the situation in Pyongyang.
"Even in markets and stores in Pyongyang, what used to be priced in dollars or yuan is now priced in domestic currency, so the impact of the decline is said to be great for those who made a living in dollars. Those who do not have financial resources are facing no choice but to sell their foreign currency. In Pyongyang, it is said that foreign currency is often confiscated by the authorities."
Most of North Korea's foreign exchange earnings agencies are concentrated in Pyongyang. In the aftermath of the coronavirus disaster, there has been a slump everywhere, and a number of trading companies have been suspended. This fall in foreign currency will deal an additional blow to the rich and those involved in foreign exchange earnings.
◆ Rapid decline in foreign currency income due to Coronavirus
As economic sanctions were strengthened by the UN Security Council in 2017, exports to China in 2018 fell 86% compared to the previous year. In 2019, while focusing on the export of non-sanctioned items, there was some recovery, but at the end of January this year, trade was almost stopped entirely due to the closing of the border to block the influx of the coronavirus.
Exports to China from January to September fell by more than 70% compared to the same period last year. As noted above, this marked a huge drop compared to pre-sanction figures, about a 95% decrease compared to 2016. Revenue from tourism was also cut off due to the coronavirus. Profits from the dispatching of workers overseas also appear to have stagnated due to the influence of coronavirus in China. North Korea's foreign currency imports must have therefore been hard hit. There has also been a massive setback in importing essential goods.
"Automotive parts and equipment are not coming from China, so more and more vehicles are no longer operational." (Reporting partner in Sinuiju City)
"The electricity supply has deteriorated. An official at the distribution ministry said that electricity production was falling because trade was stopped and the power plant machinery could not be repaired." (Reporting partner in North Hamkyung Province)
◆ Is the won's surge a product of artificial manipulation?
North Korea wants to resume trade with China as soon as possible. Fortunately, China is resuming economic activities as the coronavirus epidemic has subsided dramatically. According to a reporting partner in Sinuiju City, word came from an official who said, "Starting from the beginning of the year, preparations for the resumption of trade have begun slowly." If there is no re-emergence of coronavirus in China, there is a possibility that trade will resume around the 8th Labor Party Congress which is scheduled to be held in January.
It can be said that the Kim Jong-un regime's preparation for resumption of trade is likely to be the reason for the sharp rise in the value of the won. It is highly likely that the authorities, which need foreign currency to import essential goods, are collecting foreign currency on favorable terms by strictly banning the use of foreign currency in North Korea, and manipulating the exchange rate set by the Chosun Trade Bank.
However, an artificial exchange rate which ignores the actual value of the won will not last long. If the resumption of trade is confirmed, demand for foreign currency in North Korea will rise at once and the black market will be activated, which will lead to a weaker won. (ISHIMARU Jiro/Kang Ji-won)
※ ASIAPRESS contacts its reporting partners in North Korea through smuggled Chinese mobile phones.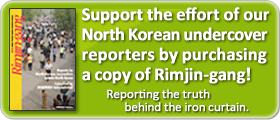 Editor's notes on North Korean reporters
ALL REPORTS >>>
ARCHIVE(pdf) >>
DPRK MAP >>