2016/Dec/1
Toward the end of August this year, 2016, a large flood occurred in northeastern North Korea. International organizations, like the International Federation of Red Cross and Red Crescent Societies, conducted onsite inspections in mid-September. They reported that, "The flood in North Hamkyung Province left 138 people dead and 400 are still missing." Those numbers are based on information provided by the North Korean government. In November, the North Korean state-owned media had proudly announced that restoration work had been done quickly and the construction of the new residences for those who had lost their houses has been completed.
Now, what is actually going on in the areas hugely damaged by the flood? Some of ASIAPRESS's reporting partners inside North Korea live along the Tumen-gang (Tumen River) where severe damage caused by the flood occurred. Those reporters' stories have been corroborated by ASIAPRESS reporters living outside the area, whom after being taken to the afflicted area for restoration work, reported on the situation.
Related Article: <Latest Photo Report> Priority on Construction of Guard Post To Prevent Defection-Not yet for flood victims
In late November a reporting partner living in Musan County, one of the areas affected by the flood, reported that, "The flood left many people dead in Yonsa County, Musan County, Hoeryong County, Namyang Workers' District and other cities, causing chaos in the collective farms. Especially the situation in Yonsa County which is terrible: some of the 'Li' (a village) were entirely swept away and the collective farms have become dysfunctional. People there have also disappeared. The government has decided to transfer people from other areas to the collective farms affected by the disaster. Musan County, where I live, will also have more than 500 migrants brought in."
'Li' is the administrative unit in rural areas, it corresponds to a village and residents there mostly work at a collective farm. A small 'Li' has a few hundred farmers while a large one has more than a thousand. 200 to 300 kilometers (124 – 186 miles) along the Tumen-gang (Tumen River) were affected by the flood. Considering the large-scale migration of people from other areas, it can be assumed that the number of deaths and missing peoples easily exceeds 538 cases. A number that was presented by the government of North Korea.
Who will be chosen by the government and sent to the collective farms that were most horribly affected by the flooding? A reporting partner in Musan found that, "People are chosen from Kilchu County and Kimchaek City in North Hamgyeong Province where the flood happened, and also Hyesan City in Ryanggang Province and so on. The police have begun to select orphaned children, so-called 'Kotchebi', people living in extreme poverty, and undocumented residents to be sent to the farms in each of the affected areas. Houses for those selected are built in accordance with their transfer to the collective farms that lost a number of farmers in the flood."
Related Article: <Field Report On N.Korea> Delayed Restoration of Flood Due to Cement Shortage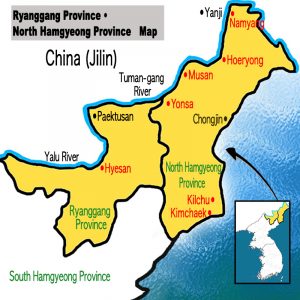 Another reporter living in Hyesan City has reported that, "Poor people in the city including the 'Kotchebi' are becoming the targets of the police and they will be sent to the collective farms affected by the flood."
The number of migrants are assumed to be in the thousands, which means that the North Korean government has understated the number of deaths and missing peoples. A North Korean defector, Paek Chang-ryong, explained that, "The North Korean government has been incapable and irresponsible in the face of natural disasters happening almost every year, leaving behind huge numbers of victims. Their aim is to hide their mistakes from the world and protect the leader, Kim Jong-un, and the government from criticism and complaints."
(ISHIMARU Jiro)
【Related Article】
◆ <Inside N. Korea> Truck falls into reservoir due to heavy snow, leaving 19 dead in the northern part of Ryanggang Province
◆ <Photo Report on N.Korea> Experiencing the Lives of Ordinary People, "Sobicha" (service car)
◆ <Inside N.Korea> Kim Jong-un Orders North Koreans Make Mountains Evergreen. -Declares 10-Year War Against Slash-and-Burn Farming
* Editor's notes on North Korean reporters
ARCHIVE(pdf) >>
DPRK MAP >>