◆ Financially stretched regime looks to exclude residents from profits
State institutions in North Korea are suffering financial difficulties due to the international community's economic sanctions. As such, Ryanggang Province's Workers' Party organizations, police, and local prosecutor's office have begun mobilizing citizens to pan the river for gold. With local residents all scrambling for gold, the riverbanks are said to be very crowded.
The reporting partner explained, "Residents can collect up to 1 or 2 grams of gold dust by panning sand at the Unchong River, which flows through the suburbs of Hyesan. Due to sluggish business conditions, poor people and farmers in the area have been flocking to the river to pan for gold."
Meanwhile, North Korea's newly rich class, otherwise known as the 'donju', is observing the sudden discovery of gold with interest. Apparently, 'donju' investors have been asked by the authorities to hire temporary workers to drill deep into the riverbed for gold.
The reporting partner continued, "To monopolize the gold, the authorities are trying to block the public from the riverside and are keeping people away at night. However, locals have been bribing guards for access to the river to take away sand." (Kang Ji-won)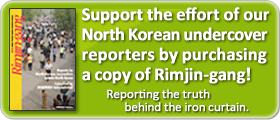 Editor's notes on North Korean reporters
ALL REPORTS >>>
ARCHIVE(pdf) >>
DPRK MAP >>