◆ How did stimulants become so prevalent?
To bring in foreign currency, North Korean authorities used to sell illegal drugs internationally by smuggling them through China. However, as a result of international pressure, particularly from China, the government ratified 3 major treaties in March 2007 to prevent drug proliferation.
On February 20, 2011, North Korea's Chosun Central News Agency published an article entitled, "China's Public Security Minister Emphasizes Safety at Border Area." According to the article, Chinese border authorities had investigated and processed 2,153 drug cases in the border region, arresting 2,883 people and seizing large quantities of drugs, weighing a total of 3,828.75 kilograms.
It is exceedingly rare for North Korean state media to recognize drug smuggling or cite specific statistics released by Chinese authorities. For North Korean state media to have published such information, it is likely that there was strong pressure from China. Since the date of publication, the North Korean regime seems to have cracked down on drug smuggling.
With the crackdown, smuggling drugs to China became too difficult, so, instead, North Korean traffickers began selling their supplies domestically, causing stimulants to become very popular. The stimulants are bought mainly by the wealthy and used in a care-free manner, with people giving them to one another to try as casually as they would give cigarettes. In addition, there are many people who believe that the drugs are good for combatting fatigue. In Japan, a similar belief was held before and after the Second World War, when crystal meth became most popular.
For appearance's sake, the Kim Jong-un regime has been cracking down on cross-border drug smuggling as well as domestic distribution for the past 5 years.
However, the spread of the drugs has not been curtailed. As drug users do not perceive the drugs to be dangerous nor feel a strong sense of guilt when consuming them, demand remains high. In addition, users are not deterred from taking the drugs by the government, as they can simply pay a bribe to escape punishment if arrested.
Reporting partners in North Korea point out that recent economic conditions are also responsible for pushing the working class to use stimulants. With prolonged economic sanctions, life is getting more and more difficult for ordinary citizens but the Kim Jong-un regime, rather than pushing for reform, is striving to strengthen its control over the population. In this oppressive atmosphere, common people are being drawn to stimulants for the fleeting pleasure they can provide. Smugglers, meanwhile, are more than happy to continue selling stimulants domestically and exploit the opportunity. (Kang Ji-won / ISHIMARU Jiro)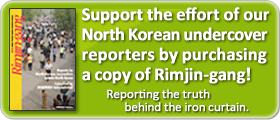 Editor's notes on North Korean reporters
ALL REPORTS >>>
ARCHIVE(pdf) >>
DPRK MAP >>