■ How are dispatched workers selected in North Korea?
In November 2019, ASIAPRESS commissioned reporting partners in North Korea to investigate the selection process for workers dispatched overseas from North Hamkyung Province, Ryanggang Province, and Pyongyang. The findings of the investigation revealed that the regime's cabinet leads the selection process. To begin with, the central administrative agencies such as the Forestry Ministry, the General Bureau of Tourism Management, and the Ministry of Trade set a quota for the number of people to be dispatched. These quotas are then shared by Pyongyang to the local departments of agencies, trading companies, and other foreign currency-earning enterprises for them to begin the recruitment and selection process. Those who wish to be dispatched overseas can be recommended by their workplaces and then have their resumes submitted for consideration following a comprehensive background check by local police and secret police.
Applications must be ratified at the city, county, and province level by central administrative agencies. If a worker is dispatched through the Ministry of Forestry, for example, an official of the provincial department of the Forestry Ministry will conduct a personal interview to check the applicant's background information before returning the personal details report to the Ministry of Security to be ratified.
To be dispatched abroad, a worker's application must receive a "guaranteeing signature" from the secret police, the police, and the head of the applicant's organization. It is said that applicants also need 3 separate guarantors and to submit a document outlining all family relations. If anyone from the applicant's family has defected, the applicant will not be allowed to work abroad.
According to a reporting partner from North Hamkyung Province, "The selection criteria is based strictly upon one's social caste and family background. It is impossible to be accepted if even a cousin has illegally crossed the border (defected). Married women who apply must have at least two children. They also have to submit to a medical checkup and infectious disease and AIDS test."
In the words of a reporting partner from Ryanggang Province, "There are very strict standards for applying to work in the service sector such as restaurants. Women must be over 160 centimeters tall but, depending on their appearance, may apply if they reach only 158 centimeters. It is mainly the children of trading company/foreign currency-earning enterprise officials that are selected. Applicants who can sing, play a musical instrument, or dance are given preferential treatment. Students from art institutes are also given preference."
To be dispatched to work overseas is a dream for ordinary citizens. Most of those dispatched overseas are said to have parents who are either rich or in powerful positions. Parents hope to receive some of the foreign currency earned abroad and also wish to give their child a "foreign experience," going so far as to pay bribes to have applications accepted.
A mother living in Ryanggang Province, whose daughter had been sent abroad to work in China, said, "Our family had no money and was struggling but we were able to send our daughter to China because of our strong family background and her good looks. I didn't want her to live like her parents, who have never been to Pyongyang, flown on a plane, or been abroad. I wanted her to see the outside world and have her eyes opened wide."
According to the reporting partner in Ryanggang Province, overseas workers receive about 300-500 RMB per month of their wages. North Korean regulations allow for overseas workers to stay abroad for between a year and 18 months, although it is also said that the work period can be extended.
■ Strict suppression and surveillance after returning home
A reporting partner living in Ryanggang Province met a woman who had returned home in early 2019 after working in a Chinese restaurant for 2 years. She told the reporting partner that, upon her return, she had to spend 3 days writing a "self review" for the Party Committee and Youth Alliance. (North Korean women belong to a local Youth Alliance from high school age until they are married).
The "self-review" described by the returned worker is a form of self-criticism that requires the writer to list all mistakes made while abroad. This self-review is combined with reports from local supervisors for a returned worker's evaluation. Even minor mistakes must be written down. It is said that the workers are warned not to dress in foreign style or adopt a foreign hairstyle.
For factory workers, things are a little different. As "technical workers," they are sometimes dispatched in groups. In the past, they have been dispatched from Saebyeol County and Rason City in North Hamkyung Province. (ISHIMARU Jiro)
Part 5 >>> <N. Korea Pro Report (Part 5)> How is N. Korea's Economy Faring in the Face of the Coronavirus Pandemic and Continued Sanctions? A Look at the Regime's COVID-19 Countermeasures
※ ASIAPRESS contacts its reporting partners in North Korea through smuggled Chinese mobile phones.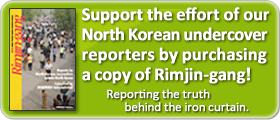 Editor's notes on North Korean reporters
ARCHIVE(pdf) >>
DPRK MAP >>