◆ Placing Kim Yo-jung second in command is a crisis management strategy for keeping power in the family
In December 2013, Jang Song-taek, the husband of Kim Kyung-hee, Kim Jong-il's younger sister, was purged and executed. The reason given for his punishment was for committing "anti-revolutionary sectarian acts that hinder the establishment of the Party's One Ideology System" and "an act of plotting to overthrow the state." Because Jang Song-taek was considered to be developing his own base of power, he was ultimately viewed as a threat to the dominance of the Kim clan and eliminated.
Kim Jong-un, who was born in 1984, is said to have three children. His eldest son is likely to be about 10 years-old. Therefore, it will take at least another decade for the child to be old enough to begin the succession process. But, should Kim Jong-un die or be unable to serve in office before then, it is his younger sister and "second-in-command", Kim Yo-jung, who will manage the crisis and ensure the continued rule of the "pure Baekdu bloodline."
◆ What are Kim Pyong-il's chances? Will sexism prevent the succession of Kim Yo-jung?
Some argue that the 66 year-old Kim Pyong-il, the half-brother of Kim Jong-il, could become the next successor. Last year, Kim Pyong-il returned to North Korea from the Czech Republic, where he was serving as ambassador. However, his return is almost certainly not an indication of an impending rise in power.
Kim Pyong-il was born to Kim Il-sung and Kim Seong-ae, Kim Il-sung's second wife (thought to have been born in either 1925 or 1928). In the early 1970s, when Kim Seong-ae wielded a high degree of power through the Democratic Women's Alliance of Korea, her son was spotlighted as a potential candidate for future rule. However, after Kim Seong-ae lost in a power struggle with Kim Jong-il, Kim Pyong-il was effectively banished, given power only as an ambassador to several Eastern European countries from 1979. He retired from the Ambassador to the Czech Republic last year, finally returning to North Korea after an absence of 40 years.
Although Kim Pyong-il looks similar to his father and is mentioned in some quarters as part of
the "Baekdu bloodline," he is not thought of as "pure" because he was born to a different
mother than Kim Jong-il and, is therefore, in a different lineage from Kim Jong-un. Also, if he was to be seen as gaining political support, he too would be purged for violating the "Party's One Ideology System."
Some suggest that it would be difficult for Kim Yo-jung to succeed given North Korea's male-dominated society. Having worked with over a 1,000 North Korean people, however, it seems that gender equality in North Korean society is taken much more seriously than in South Korean, Japanese, and Korean-Chinese communities. North Korea even has "Women Leadership" meetings, although it must be said that Kim Yo-jung is greatly benefitted by the fact that she is the Kim clan's only current option. In order for North Korea to accept her as Kim Jong-un's "second-in-command" and potential successor, it seems to have been necessary to give her much public exposure. (ISHIMARU Jiro)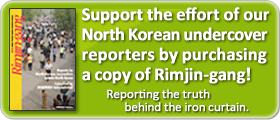 Editor's notes on North Korean reporters
ALL REPORTS >>>
ARCHIVE(pdf) >>
DPRK MAP >>