2018/Nov/12
◆A derailment shortly following Kim Jong-un's inspection of Samjiyeon
On November 3, a train carrying materials for the construction of a special tourism zone derailed on the Hyesan-Samjiyeon line in the northern Yanggang Province. Three workers of the local construction 'storm troops' were seriously injured and taken to the hospital, according to information passed on to our reporting partner by local railway workers. The injured are said to be in a critical condition.
The derailment occurred at Hwajeon Station, two stops away from Hyesan Station. Immediately after the accident, all personnel and equipment were dispatched from Hyesan and Wiyeon stations in order to restore the tracks to working order.
A railway official speaking to a reporting partner said, "Recovery from a derailment usually takes a considerable amount of time as it requires a lot of money and personnel. This is the first time we've recovered as quickly as this."
The construction of a special tourism zone in Samjiyeon County is a top priority for Kim Jong-un. According to our reporting partner, railroad officials feared that they would be punished by Kim Jong-un for any construction delays the derailment would cause and, therefore, poured all effort into restoring the railways as quickly as possible. Just before the accident, on October 30, state-run media reported that Kim Jong-un had toured Samjiyeon County.
Electric cables along the railway linking Hyesan and Samjiyeon, the two main cities of Yanggang Province, have been connected. However, the railway roadbed has not yet been completed and cannot be used to transport people. To finish the roadbed, a freight car carrying cargo and stones is being operated 2-3 times a day. (Kang Ji-won)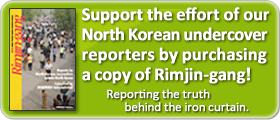 Editor's notes on North Korean reporters
ALL REPORTS >>>
ARCHIVE(pdf) >>
DPRK MAP >>