◆ So who is going hungry?
For whom is the food situation most dire then? In May, we asked reporting partners living in North Korea.
"There is no shortage of rice in the market, but ordinary people cannot afford it. Their private market activities are not going well. My income, as well, is only half of what it was 2 years ago. We are all barely making ends meet. The farmers have it worst though," said a reporting partner living in Hyesan, Ryanggang Province.
In the words of a reporting partner living in North Hamkyung province, "There is rice and corn at every market. The ones who are starving right now are the farmers. It's hard for elderly households too due to the sluggish business. Laborers at mines and munitions factories haven't received rations once this year. The meals provided to the 'construction brigades' working on the building sites have become truly pathetic."
Related article: <Inside N. Korea> Signs of Starvation: Farmers Forced to Survive off of Potatoes as Regime's Unreasonable Quotas Leave Them with Nothing
Why are farmers starving? In North Korea, each cooperative farms is tasked with providing the state with a set amount of food to be used by the military and government. Farmers are only allowed to keep whatever crops they can produce extra.
The government's quotas, however, are set far too high. Exploited by the state, farmers are now beginning to starve, as the little amount of food distributed to them after the last harvest runs out.
Second only to farmers, stand the urban poor and workers in munitions factories- the 20% of the population who were subsisting off of the distributions provided to them by the state, which have now been cut off. There are also many ordinary soldiers who are suffering from malnourishment. At the markets, everyone is struggling, with their businesses restricted and failing.
Related article: <N.Korea photo report>A Look at North Korea's Impoverished Rural Women (4) 'People are working just to be robbed' (Photo 5)
There is rice at the markets but the distribution system has grinded to a halt; meaning, essentially, that there is a lack of state-owned food. Rice at the markets is privately-owned, with 80% of the population relying upon a cash income to purchase it. So far, though, there has been little to no reporting in the media covering this gap.
The Kim Jong-un regime typically distributes state-owned food first to the military, public security agencies, party, government agencies, construction workers, important enterprises, and Pyongyang citizens. These distributions are often leaked to markets, however, as struggling organizations and corrupt officials look for ways to make cash.
The reality is that people are starving in North Korea. Now, aid must be provided first and foremost to those who need it most- such as those in rural areas. U.N. agencies and the South Korean government must demand access to cooperative farms in order to provide this assistance.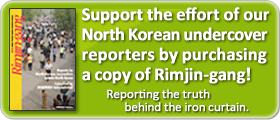 Editor's notes on North Korean reporters
ALL REPORTS >>>
ARCHIVE(pdf) >>
DPRK MAP >>