◆ Contents of an internally-disseminated document from June
ASIAPRESS has obtained a document internally-disseminated by the Workers' Party in mid-June, just 15 days before the politburo conference led by Kim Jong-un. The document was obtained by a reporting partner in North Pyongan Province. The full title of the document is as follows:
"Dear Leader Kim Jong-un's June 1, 2020 ratification policy, data and countermeasures report on the problems raised in the measures to track and prevent the novel coronavirus."
The document was published by the Political Bureau of the Central Emergency Quarantine Committee. The committee was urgently established at the end of January in response to the coronavirus epidemic in China.
The document itself is described as a "ratification" policy command from Kim Jong-un. In North Korea, 'ratification' means 'approval of the supreme leader'. This means that Kim Jong-un has approved 'proposals' by each organization. 'Policy' is also a term used only to describe instructions from the supreme leader himself- meaning that the policies are essentially 'commands'.
The document explained that the Central Emergency Quarantine Committee offered "proposals" for coronavirus quarantine measures to Kim Jong-un, which were then recognized as countermeasure "policies".
The reporting partner who obtained the document explained its purpose as follows:
"The proposal prepared by the Central Emergency Response Committee was approved by Kim Jong-un and included in a simple document presented to each organization in order to notify those throughout the country. It is not highly classified but, based on this document, learning materials and lecture materials are created for residents and organizations in different regions."
◆ Internal documents suggest coronavirus outbreaks
Let's take a look at its contents. Keep in mind that the author's commentary is in parentheses.
"In order to thoroughly carry out the ratification policy of Party Comrade Kim Jong-un, the Political Division of the Central Emergency Quarantine Committee will further strengthen the blockade of the border, coasts, and demarcation lines (military demarcation line with South Korea) in line with the prolonged national emergency quarantine projects at each level. In the process of further strengthening the containment of the military demarcation line, it will conduct a project to find and counteract coronavirus transmission routes."
This can be read as an order for preventing transmission of the coronavirus from abroad and identifying where it has spread within the country. ASIAPRESS asked a North Korean defector who used to work as a secret police officer to look at the document and he explained it as follows:
"It seems that it was written on the premise that there are already coronavirus cases within the country. To prevent the virus spreading, it is necessary to find and identify those who are infected. When this is released to the public, the wording will be censored and changed."
There is nothing in the document that contradicts the regime's claims of 'zero infections,' but the document certainly suggests that an outbreak has occurred.
◆ Disinfect the imported aid materials and hold them for 20 days.
After blocking the Chinese border at the end of January, North Korea tried to quarantine potentially infected people. People with cold-like symptoms could not leave their homes, and customs officials and traders who may have been in contact with foreigners also had to be quarantined for 30 to 40 days in warehouses or offices (officials were quarantined at inns). It seems that the quarantine measures were applied unconditionally, as there was no way to determine whether or not there were infections due to the lack of PCR testing equipment.
Supplies of coronavirus testing aid from China and Russia began to flow in slowly, starting in late February. In addition, it can be assumed that the aid would have been used first by key figures and by those in their circles in Pyongyang. According to an internal survey by ASIAPRESS, disinfectant was distributed to local cities only in late May. Until then, most quarantine workers were using salt water. Indeed, PCR inspection equipment is still in short supply.
In addition, the internal document reads:
"We have confirmed that the virus could be introduced through Sinuiju Cheongnyeon Station or Tumen River Station, which handle imported goods."
Sinuiju Cheongnyeon Station is at the center of North Korea's largest trade district and is connected to Dandong in Liaoning Province, China. Until mid-July, strong traffic restrictions remained in place, however, small amounts of imports recently resumed, with the focus being on daily necessities.
Tumen River Station, meanwhile, is located at the eastern end of North Hamkyung Province and is the only commercial district connected to Russia by rail. In early June, a reporting partner investigating imports from Russia said:
"At the end of April, cooking oil, medical supplies, and flour began to be imported from Russia by rail. It was not as trade, but as Russian aid, and only the trading company affiliated with the Central Party was allowed to handle it. When cargo comes in from Russia, it is sterilized and kept in quarantine for 20 days, with public access prohibited."
Judging from the internally-disseminated document, the decision to strengthen the quarantine measures may have been taken by the government prior to Kim Jong-un's criticism on July 2.
◆ A coronavirus outbreak on a military base
While reviewing internally-disseminated documents in early July, ASIAPRESS received noteworthy reports of a coronavirus infection impacting a military base in Sariwon, South of Pyongyang. (continued)
※ ASIAPRESS contacts its reporting partners in North Korea through smuggled Chinese mobile phones.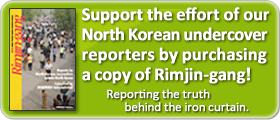 Editor's notes on North Korean reporters
ALL REPORTS >>>
ARCHIVE(pdf) >>
DPRK MAP >>