◆ North Koreans face a humanitarian crisis
Increasingly serious changes are happening in North Korea. It has been 10 months since the border was closed to prevent the influx of coronavirus, stopping trade and tourism, and in the aftermath, causing export production and logistical work to evaporate. With the markets losing steam, there was a sharp drop in cash imports. The most vulnerable people in cities, including the elderly, are dying of malnutrition and disease.
On November 23, Chinese customs officials released trade statistics for October. The figures were shocking. During the month, the total import and export volume was only US$1,659,000, with North Korean imports only US$253,000- both figures marked a 99% decline compared to last year. China's trade has continued to decline sharply since March due to the border blockade and it seems that North Korea's current lack of foreign currency has made trade less profitable.
◆There is rice at the markets but I'm starving because I don't have money
On the other hand, there are exchanges that are not represented in trade statistics between North Korea and China. It seems that a large amount of food and coronavirus prevention equipment has been provided by China since June. The Asahi Shimbun reported that 500,000 to 600,000 tons of food and 550,000 tons of fertilizer were provided, and the JoongAng Ilbo reported that 800,000 tons of food were provided unofficially. If true, perhaps the military, police, party, government agencies, military, and other organizations of high importance to the regime and construction mobilization were supplied first, and some of the supplies were able to enter the market.
According to reporting partners in North Korea, food such as rice and corn is sold in all markets, and prices are stable due to price controls set by the authorities. In other words, if there are people dying of starvation, it is not because of food shortages, but because people do not have money and cannot access food.
It seems obvious that North Koreans are facing a humanitarian crisis. Coronavirus is still causing much concern. The Kim Jong-un regime is limiting the acceptance of humanitarian aid as well as trade, and arguing that bringing in people and goods would cause an influx of coronavirus. There has been no response to South Korea's offer of assistance.
With tight border closure, quarantines, and movement controls, the spread of coronavirus can be prevented, however, people are dying of hunger and disease. International organizations and neighboring countries should propose consultations with North Korea on the method and scale for emergency humanitarian aid. This can be accomplished by Japanese Prime Minister Yoshihide Suga, who has offered unconditional talks to Kim Jong-un. (Jiro ISHIMARU)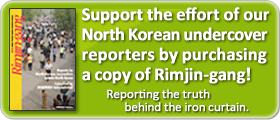 Editor's notes on North Korean reporters
ALL REPORTS >>>
ARCHIVE(pdf) >>
DPRK MAP >>