North Korean authorities have instructed trading companies to import urgent medical supplies from China in order to cope with medical shortages which have intensified due to the suspension of trade amid the coronavirus pandemic. This was reported on April 9 by a reporting partner in the northern region of Ryanggang Province. (Kang Ji-won / ISHIMARU Jiro)
◆Russian Diplomat Exposes a Shortage of Medicine
The shortage of medicine in North Korea is extremely serious. The country is in a state of medical collapse, with many deaths due to lack of access to treatment. The main reason is that trade has been severely restricted since February 2020 to block the influx of coronavirus and, as a result, medicines made in China have almost dried up. The acceptance of relief goods from international organizations and other sources has also been suspended.
According to our reporting partners from ASIAPRESS, as early as last spring, local cities reported a shortage of medicines and price increases and, by autumn, hospitals and pharmacies were running out of medicines and medical supplies, making it impossible to treat illnesses and injuries.
On February 25, the Russian Foreign Ministry drew attention to the departure on a hand cart of eight members of the Russian embassy staff stationed in Pyongyang together with their families. On April 1, the Russian Embassy posted on its Facebook page that there was a "serious shortage of essential goods, including medicine. In an interview with Radio Free Asia (RFA), Czech embassy staff also admitted that there were serious shortages of supplies.
It is easy to assume that the situation is even more serious for ordinary Pyongyang citizens and local residents when even diplomats cannot get proper access to medicines. Since the beginning of 2021, ASIAPRESS reporting partners have been investigating the effects of the shortage of medicine across North Korea.
◆A number of deaths have been reported from various areas.
Research was conducted in North Pyongan Province, Ryanggang Province, and North Hamkyung Province. All of these provinces are adjacent to China and have larger stocks of Chinese goods than other provinces as a result. Investigative reports yielded the following quotes:
"There is no medicine in stock at hospitals and pharmacies. The price of black market drugs has increased by 7 to 10 times or more because of the strict ban and crackdown on private drug sales but, even if you want to buy them, they are often unavailable. Pills normally sold in bulk are now sold one at a time."
"Thermometers, cold medicine, and heart medication are running out. A thermometer made in China used to cost 2 yuan, but now you cannot buy one even if you pay 50 yuan. A lot of old people died because there was no more medicine for people with heart disease to take when their heart palpitations became too intense. Only the very rich and officials have stable access to medicine." ※ 1 Chinese yuan is approximately US$0.16.
"Many people are suffering from lack of antibiotics. Many of them died of colds when they were unable to eat well due to lack of cash income. A lot of tuberculosis patients have died too due to lack of medicine."
"With the disappearance of disposable syringes and IV supplies made in China, hospitals have been boiling them and reusing them but, since all Chinese products are made of plastic, they are deformed and have to be washed in warm water. There is widespread anxiety about what to do if medicine is no longer available and people get sick."
◆Is it really possible to import with insufficient funds?
An extreme shortage of medicine and medical supplies became apparent as late as last fall, but the Kim Jong-un regime refused to allow imports from China, and only now, with the collapse of medical care, is the regime finally taking the issue seriously.
According to a local trading company employee whom our reporting partner met in early April, there was a new order from the central government to urgently import medicines and medical supplies, and "all the companies are busy communicating with their Chinese counterparts by fax."
However, since the trade ports with China on the Yalu and Tuman Rivers are still blocked, they have been instructed to import through Sinuiju in North Pyongan Province. This is because customs clearance operations in Sinuiju have continued and quarantine facilities have been set up.
It is quite possible that government agencies are directly discussing the purchase of medicine with the Chinese government, but the instructions to the trading companies appear to be a separate and urgent measure to ensure a large and rapid domestic supply of medicines.
"The problem, however, is paying for imports," said a reporting partner who conducted the investigation. Due to the more than year-long blockade of the Chinese border, which forced them to suspend their operations, none of the trading companies have any funds. Therefore, "We are negotiating with Chinese suppliers on the condition that half of the payment will be offset by exporting agricultural products (mainly Chinese medical ingredients) and the rest is to be paid later," said the reporting partner.
Instead of the state paying for imports, each trading company will have to raise funds. This will be added to the price, so the high price of medicine will probably continue. However, it remains to be seen if Chinese traders will be willing to sell medicine under the condition of deferred payment in the first place.
In addition, customs statistics released by the General Administration of Customs of the People's Republic of China for January and February of this year showed that there were no imports of medicine from China.
※ASIAPRESS contacts its reporting partners in North Korea through smuggled Chinese mobile phones.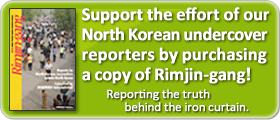 Editor's notes on North Korean reporters
ALL REPORTS >>>
ARCHIVE(pdf) >>
DPRK MAP >>