◆ Crudely calculated electricity bills
A common problem faced by all 3 surveyed regions is the lack of electricity meters for calculating household power consumption. The authorities have been attempting to install meters for every house since last year, but the prohibitive 30 USD price of each meter would have had to have been paid by each household. In the end, the plan could not be carried out after it met strong opposition from residents dissatisfied with the unreliable power supply.
As the meters were not installed, officials in charge of electricity distribution have to go door-to-door, cataloguing the appliances owned by each household and making crude calculations of each home's estimated power consumption. This primitive billing system is still in effect.
A reporting partner in Pyongyang complained of the system, saying, "The electricity distribution department always quarrels with residents because they set the rates entirely at their discretion. Lately, we've been paying 5,000 won a month for our house."
The authorities have announced, however, that meters for calculating exact power consumption will soon be required nationwide, starting from September/October.
※ ASIAPRESS contacts its reporting partners in North Korea through smuggled Chinese mobile phones.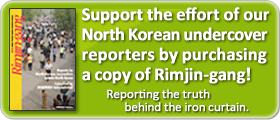 Editor's notes on North Korean reporters
ALL REPORTS >>>
ARCHIVE(pdf) >>
DPRK MAP >>