◆ The search for non-sanctioned goods
North Korea has focused on switching to manufacturing products that are not subject to the sanctions. We can see this by comparing the country's top 5 exports to China from 2016 and 2019.
Topping the list in 2019 is "watches and watch parts." These products are produced through a consignment deal, where a Chinese company provides the raw materials. The second largest export in 2016, meanwhile, was consigned textile products. As textile products were made subject to sanctions, the regime had to find new products, such as watches, to manufacture.
The second largest export is "down and feather products." These products will have also been produced on consignment. As reporting partners in North Korea have long reported, "wigs and artificial eyelashes are being produced everywhere. They are even having inmates in prisons make wigs."
Third place belongs to "steel" and fourth place belongs to "copper ore, slag ore, and lime." Since iron and iron ore are subject to sanctions, steel, ferrosilicon, tungsten, and other non-sanctioned minerals are being exported. The fifth strongest export is "optical, photographic, and measuring equipment and accessories." These are also likely to be consigned products produced in cooperation with a Chinese manufacturer.
According to reporting partners, the main item that trading companies buy from local residents for export to China are herbs for traditional medicine. Last year, companies were said to be buying praying mantis eggs, although the eggs were not officially listed as exports. The eggs may have, in fact, been traded through 'state-run smuggling'- a practice that will be described later.
Needless to say, such efforts to switch to non-sanctioned products for manufacturing have been dashed, with the border completely sealed to prevent the spread of the coronavirus. (ISHIMARU Jiro)
※ASIAPRESS contacts reporting partners in North Korea through smuggled Chinese mobile phones.
Part 2 >>> <N. Korea Pro Report (Part 2)> How is North Korea's Economy Faring in the Face of the Coronavirus Pandemic and Continued Sanctions? A Look at the Regime's Revenue Schemes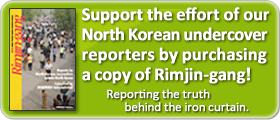 Editor's notes on North Korean reporters
ALL REPORTS >>>
ARCHIVE(pdf) >>
DPRK MAP >>