◆ Vulnerable Veterans
...Articles 20 through 22 of the Military Service Act regulate the following:
● Local government agencies and business organizations should take care of veterans by giving preference to citizens who have completed their political and military service terms.
● An important factor behind the construction of a powerful army is the good work of reinforcements.
● Institutions and enterprises should regularly organize projects related to military service and ensure military supplies such as food and clothing are safely produced and delivered.
The internally-disseminated document also contains the following commentary on the above regulations, which reads:
"Preferential treatment by society to people who have completed their political and military service with distinction will help increase the sense of pride in serving and make our revolutionary armed forces a true, invincible protector of the people.
A number of provincial, municipal, and military government agencies, including the North Pyongan Province People's Committee, are focusing on the housing and financial needs of veterans, so that they can settle well in new posts and perform their duties faithfully.
Numerous organizations, including the General Bureau of Trade, the Gyeongheung Guidance Bureau, the Kujang District Coal Mining Company, and the Medical Science Institute are doing well to supply veterans, contributing to the soldiers' love for their country and improving morale.
In the past, however, not all organizations paid enough attention to the housing and vocational needs of discharged soldiers and, through attaching preconditions and other such excuses, caused inconvenience to their lives.
All workers and leaders must be aware of the demands of the Military Service Act and fully implement it in order to help build a socialist military power and actively contribute to the 'steel wall' defense of the nation."
◆ Veterans In Need
What the documents show is that the reality on the ground is that local governments, businesses, and other organizations do not adequately take care of the needs of veterans who have returned to society after more than a decade of service. (ISHIMARU Jiro)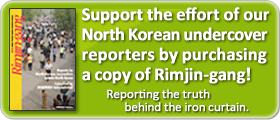 Editor's notes on North Korean reporters
ALL REPORTS >>>
ARCHIVE(pdf) >>
DPRK MAP >>