◆Will rice and aid be transported?
The opinions of the citizens who are optimistic about the coming-and-going are as follows:
"If the railroad goes ahead, average North Koreans will be able to visit South Korea."
"If they say people cannot come and go, then why connect the railway? It's so people will be able to go to the South."
"Anyone who receives the trust of the government will be selected to take a tour of the south."
"Like the Kaesong Industrial Complex, it will bring much tourism and investment."
Meanwhile, there are some pessimistic views that can be heard as well. They are summarized thusly:
"If our people go to and from South Korea, as they will abandon socialism, the authority would never allow it"
"Even if the North-South railway is connected, people will not be allowed to freely use it and it will surely only be use for transporting goods. (South Korea) would send rice or other material support but also take North Korean minerals and sell them on at high prices."
One can sense that these citizens expect the economic benefits from the South to come through the connected train. (Kang Ji-won)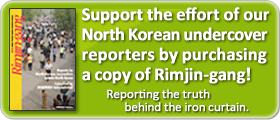 Editor's notes on North Korean reporters
ALL REPORTS >>>
ARCHIVE(pdf) >>
DPRK MAP >>