The North Korean government has initiated the construction plan to stem the flow of outside information from China and to clamp down on illegal border crossing and smuggling. The plan to tear down homes located along the border was decided on in 2014.
The local authorities declared that demolition would be carried out according to the directives of the Party and everyone must be prepared to follow these directives, disseminated through the Inminban meetings.
*Directives issued from the Party mean that they come directly from Kim Jong-un.
'B', a reporting partner who is well informed on the demolitions, explained, "The government decided to tear down our shacks and to build new buildings. Just across the river, it's possible to see tidy and neat houses in China. Adding to the need to construct better buildings, the area is well known for smuggling and defections, so [the government decided that] a buffer zone must be established as a second 38 parallel (Demilitarized Zone; DMZ)."
In Hyesan, the power supply has improved, even though, throughout North Korea, people continue to suffer from chronic power shortages.
"The power supply is better these days. Sometimes, power is supplied for five hours in the Hyesan area, although I'm uncertain about how other areas are faring. In the suburbs, like Weeyon, people are struggling with the water supply, due to problems with the pump system. But in the central area this isn't the case, because of the head drop system," explained reporting partner A.
【Related article】
◆ Kim Jong-un Regime Works Hard to Conceal Sanctions
◆ <Inside N.Korea> Kim Jong-Un Regime Tries to Shut Out Rumors: War Is About To Break
◆ [Video Report] Tighter Sino-North Korean Border Control During Last 20 Years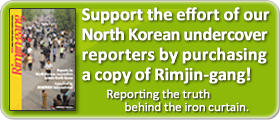 * Editor's notes on North Korean reporters
ALL REPORTS >>>
ARCHIVE(pdf) >>
DPRK MAP >>